The best episode of
The Hitchhiker
Television series that was on
HBO
was the episode called
Face to Face
featuring
Playboy
cover girl and actress
Sybil Danning.
In this episode she co-stars with fellow
Battle Beyond the Stars
alumnus
Robert Vaughn
.
http://www.hulu.com/watch/116891/the-hitchhiker-face-to-face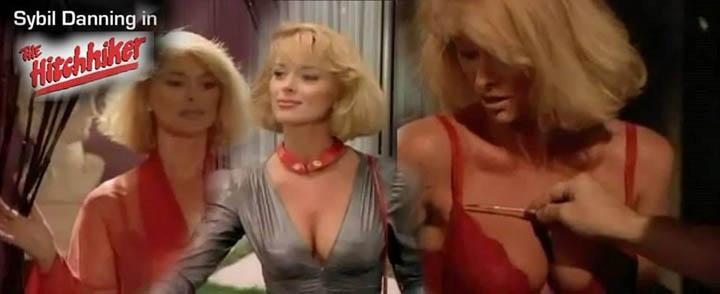 Sybil
in this feature plays a supporting role that was very much a parody of her own life. The character was a "B" movie actress named Gloria Lloyd, that was dating the Hollywood plastic surgeon played by Vaughn. Vaughn's egotistical surgeon ends up botching a plastic surgery performed on a transgendered person because he spent the prior night snorting cocaine off the bare naked breasts of Gloria Lloyd in a sex scene that apparently got so heated that Vaughn had to have a stunt man perform his part.
The scene starts out with Sybil's character disrobing on command by the Vaughn character. She then starts feeding him strawberries and soon the old saxophone music kicks in and the next thing you know he is taking a scalpel and cutting off her bra.
Apparently the full scene was heavily edited and we did not get to see the full "sex scene".
Sybil Danning
explained from an interview in
FEMME FATALE MAGAZINE:
"Think of what Robert Vaughn and I must have done at the end of our seduction scene that was too dangerous for cable television! Oh, yes, we played out a whole scene according to our screenplay, but, somewhere between the set and the censors at Home Box Office, the final portion was judged as hazardous to your mental health. In case you still need another clue as to what was so outrageous, Vaughn wasn't even there for it-he needed a stunt double!"
I had found an interesting article written by David Del Valle for
Films in Review
describing what happened at a Hollywood Christmas Party held at his house that Sybil attended and all the males guests packing into his bedroom to watch Sybil's fantastic scene in the Hitchhiker. David Del Valle explained:
"Sybil arrived .... at about this time and she looked terrific in a black and gold outfit, but then when didn't she look like a Movie queen. In my bedroom there was a television and at half past ten Scott asked if he could watch a show on HBO that had Sybil as a guest star, it was an episode of THE HITCHHIKER, a mystery show with a supernatural twist. That evening's segment featured Sybil and guest star Robert Vaughn in "Face to Face". In the show, Bob played a plastic surgeon who spends the night before an operation snorting coke off one of Sybil's breasts (in other words the perfect show for a Xmas party). Most all of the men at the party had squeezed into my bedroom to experience this act first hand while Sybil remained in the kitchen having conversations and champagne with the rest of the guests."
Sounds like an interesting party for sure, the men in a bedroom watching Sybil undress and the women downstairs talking about what they got for Christmas in the kitchen.
Anyway this HITCHHIKER: FACE TO FACE EPISODE needs to be put on DVD with the incredible uncut version provided. That would be a true Sybil Danning collectors item and a great Christmas stocking stuffer come to think of it.